A Little Porn: MJ Neal Schematic Ideas
MJ Neal
submitted his schematic ideas for the now-defunct Euclid project, and graciously agreed to let me post them here.
I should point out that these images are the property of MJ Neal Architects and it would be a crime to appropriate or use these images without the written consent of the firm.

Here's the proposed layout, which might be difficult to decipher because the blog program automatically formats the pic size, whether I like it or not.



The original structure is in gray. You can see that he proposed an addition that would create our desired courtyard configuration, incorporating the existing garage in the layout.
The addition and renovation would consist of a master suite, kitchen and large screened porch, along with a nice dramatic entryway and indoor/outdoor fireplaces. Pretty cool.
The first sketch below shows the front of the house, with a new roof that would cover everything, including a parking spot/covered outdoor entertaining area/whateveryouwantittobe area.
Below is the entry to the home, with off street parking on the right of the entry walk and the new kitchen on the left of it. The kitchen would have a very open feel to the front yard, with panels that could slide to create privacy and glow at night. Nice.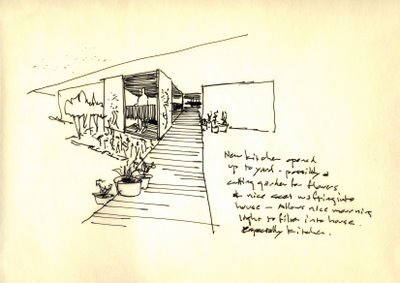 Below, a sketch of the reworked living space, showing the kitchen area on the right, fireplace and built in seating, which would create a nice open feel to the space.
And here's a rendering of the master suite looking towards the screened porch/outdoor living area, showing our much-needed wall of bookshelves. Sigh. Those bookshelves alone make me want to jump through a wormhole to 3 weeks ago and exclaim "let's do it!"
Here's a cool one below. It shows the master bath with a great indoor/outdoor treatment. You're looking at the shower area, with rain heads and a reclining bench. Everyone needs a reclining bench near the shower. I know I do. Hell, I'd never leave the bathroom. Bring me a tuna melt! I'm not going anywhere.
His proposal definitely made good use of the "wow factor". We received it the day that we backed out of the contract for the property, which made it that much more difficult.